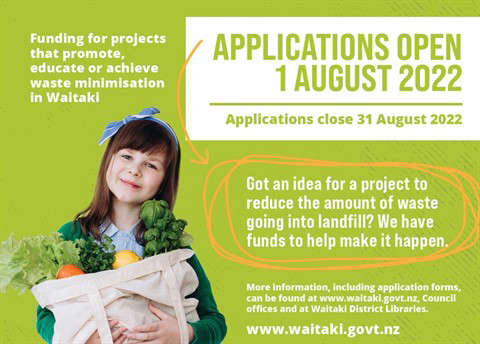 It can be difficult to imagine a world without waste but that is what the inaugural Waitaki Waste Minimisation Fund is striving for. Waste minimisation is the reduction of waste and the reuse, recycling and recovery of waste material.
The purpose of the fund aims to provide support, both financially and practically, to our community in creating and delivering waste minimisation projects. These projects will aim toward less rubbish going to landfill, or in an ideal world, stop waste from begin created in the first place.
Waste Minimisation Officer Lucianne White said "We are so excited to launch our inaugural Waitaki Waste Minimisation fund. Being able to support and enable community initiatives that sit at that 'rethink, reduce, reuse, repurpose, repair and recharge' end of the waste hierarchy is very cool. We cannot wait to engage with applicants and hear about their ideas and projects"
There is a total of $30,000 to distribute annually with funds available of up to $5000 per project. The types of projects and activities that the funding can be used for are behaviour change and education, workshops, peer-to-peer learning, research, and data collection to name a few. They also need to be able to be quantified.
The Fund is also promoting the Waste Hierarchy. The projects that are closer to the top (listed in order) will have a bigger impact and are more likely to be funded. This includes:
RETHINK – Stopping waste before it is created
REDUCE – Reducing the volume of waste created
REUSE / REPURPOSE / REGIFT / REPAIR / RECHARGE THE SOIL – Composting, worm farming & bokashi
RECOVER – Extraction of materials or energy from waste for further use or processing
So, get your thinking hat on – or you may already have an idea. The fund is open 1 August and closes 30 August each year with this year being the first. Applications will be looked at on a case-by-case basis so if you have a bigger idea, another idea or want to find out more about the fund, get in touch with Lucianne White lwhite@waitaki.govt.nz or 03 433 0300