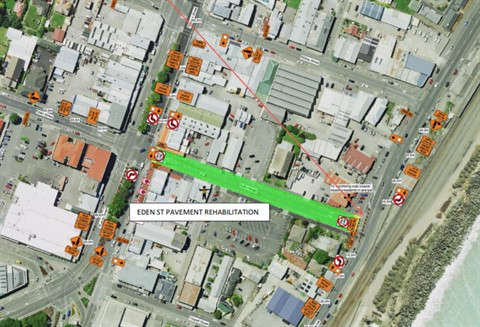 As part of the Waitaki District Councils annual pavement rehabilitation work, Eden Street between Humber and Thames Street is scheduled for repairs between August and October this year. The aim of this work is to ensure key sections of roads within the local roading network are renewed to meet the level of service they provide.
The work will include removal and reconstruction of kerb and channel, vehicle crossings, excavation of existing pavement, new pavement construction, surfacing and reinstatement of road marking, signage, and road furniture.
Funded by Waka Kotahi NZTA in conjunction with the WDC, this is part of Council's Road renewal activity that is tendered on an annual basis.
Several stages of traffic management will be in place to facilitate works. This will include both a partial and full road closure. Contractors will minimise the effect we have on businesses, residents, and road users as much as possible however there will be some disruption.
The Intercity bus service will continue however the bus stop will be relocated to SH1, adjacent to Eden Street for the duration of the works.
St John are aware of the works and the contractor will always provide access to emergency services. Please keep an eye out for emergency vehicles requiring access through traffic.
Although road works are going on, please continue to support businesses as usual. The taxi stand will move to 4 Eden Street during phase 2 (signage will be provided) and off-street parking will be maintained. Alternative access to Eden Street carpark will be available. Please check temporary signage for street parking.
For the safety of road crew and road users, please adhere to temporary speed restrictions and signage. Footpaths will be functional but may include unsealed and uneven surfaces during works – please take care.
The contractor will minimise the impact as best they can, please be patient and keep speeds reduced to keep everyone safer.