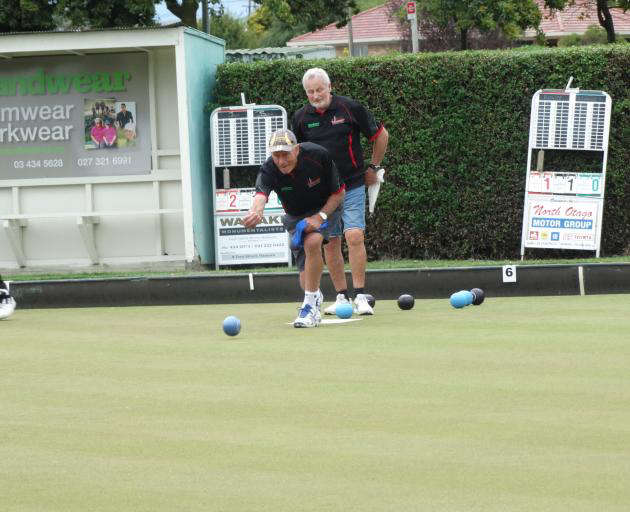 Awamoa Bowling Club president Bob Kingan delivers a bowl during the Anniversary Day pairs tournament in Oamaru yesterday. Bob Wilson looks on. PHOTO: NIC DUFF
A North Otago sports club has brought up a very impressive milestone.
Awamoa Bowling Club celebrated its 100th anniversary over the long weekend.
The celebrations "lived up to expectations for everybody", club president Bob Kingan said.
Club secretary Chris James was also very happy with how it went.
"The bar was busy, which is always good.
"And the bowls has been great. The weather gods have smiled down on us."
The weekend was capped off with the annual Anniversary Day pairs competition yesterday.
It has been held for "the best part of 100 years" and almost 40 players from a variety of different clubs took part this year, Mr Kingan said.
The bowling greens received incredibly high praise from the visiting players, Mr James said.
"They're in sensational shape. Some of our Christchurch guests were saying 'oh man, I wish we could pick these greens up and take them back to Christchurch'. That's a testament to how good they are."
They are looked after by Kenny Thickett, who was awarded Greenkeeper of the Year at the Bowls New Zealand Summerset Awards in September last year.
Alongside the tournament, a formal dinner was held on Saturday night.
The evening was a real highlight from the weekend, Mr James said.
Also at the dinner, one of their life members, Graeme Larcomb gave a speech.
Mr Larcomb has been involved in much the club's history as he has been a member at Awamoa for 67 years.
He reminisced about his experiences and how far the club has come in his time there.