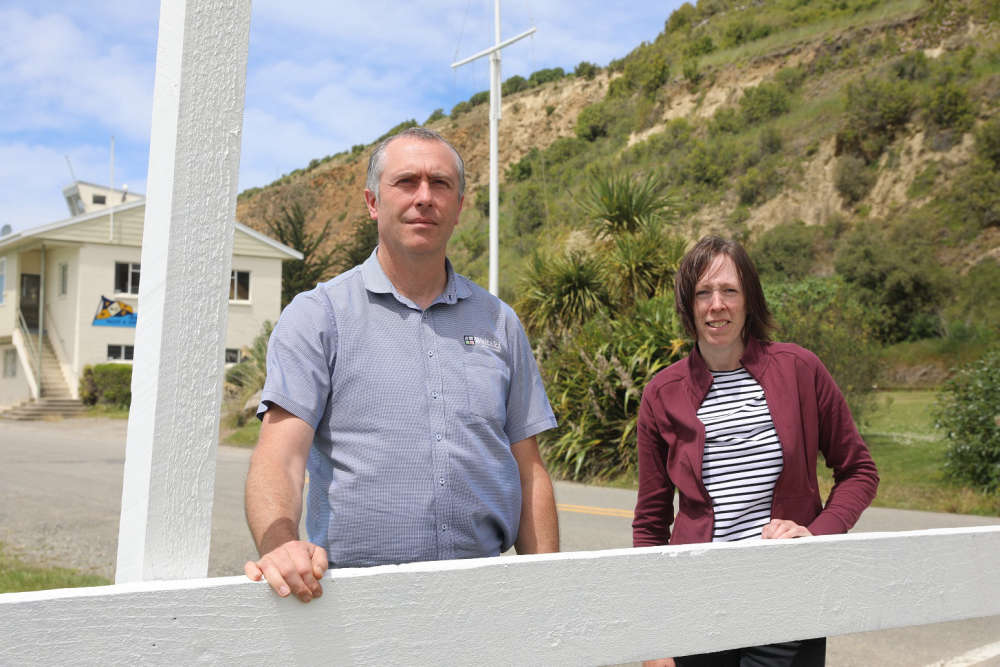 Waitaki District Council senior compliance officer Tristan Hope and Oamaru Blue Penguin Colony science and environmental manager Dr Philippa Agnew pictured by the Oamaru Harbour. Photo: Supplied
Waitaki District Council and the Oamaru Blue Penguin Colony are reminding pet owners of their obligations around Oamaru Harbour after a blue penguin was killed by a dog at the harbour last weekend.
Dogs were barred from certain areas, council senior compliance officer Tristan Hope said.
"It is nice for dogs to have a swim, but owners need to think about where they do this. The entire Oamaru Harbour area is a beautiful space to exercise dogs, but it is an on-lead area."
Signs inform the public that dogs must be kept on a lead at the Oamaru Harbour area under the Waitaki dog control bylaw.
Additionally, dogs were prohibited in the harbour area between sunset and sunrise.
The council was working with penguin colony staff to update the signs to ensure everyone was aware of the rules.
Any dog owners found breaching the bylaws are liable to receive a fine of $300.
A blue penguin from the colony. Photo: ODT Files
Blue penguins are also a nationally protected species, and owners of dogs that cause the death of protected wildlife face up to three years' imprisonment or a fine of up to $20,000.
The dog might also be put down.
This time of year was particularly important, not only for the penguins but other birds too, colony science and environmental manager Dr Philippa Agnew said.
"We have been lucky enough to have an extended breeding season with the first eggs spotted in May. The chicks in the colony are close to fledging so we really want to send a strong reminder to please keep your dogs on their lead while visiting the Oamaru Harbour area.
"Shag chicks are also beginning to fledge in the harbour area. Please keep your dogs away from these young birds too," she said.
Mr Hope encouraged dog owners to make sure their pets were properly trained to help reduce the possibilty of another wildlife attack.
The council would continue to investigate the incident.
By Nic Duff